Electrofishing Used as Lake & Pond Management Tool After Dallas Severe Storms
Severe storms can leave flooding in their wake causing damage to public and private lakes and ponds. An electrofishing analysis is a way to help fish populations remain in proper proportions.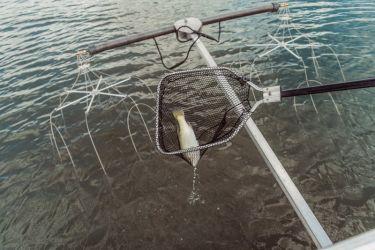 Bryan, United States - June 12, 2019 /PressCable/ —
Because of recent flood warnings and severe weather in Dallas, Lochow Ranch is releasing a reminder of the importance of using a specialized tool in the aftermath to keep fish populations intact in proper proportions in private ponds and lakes.
After a flood, an electrofishing analysis can determine whether foreign species have entered a pond or lake and it can also be used to determine the after-storm population density.
Electrofishing is a scientific method whereby the fish are stunned briefly, causing no long-term negative effect to the fish population. An electrofishing survey determines abundance, population density and other characteristics of the fish population. Each fish is weighed, measured and released unharmed. They return to their normal state in a matter of a few moments.
Electrofishing is an excellent tool for correcting an out-of-balance body of water. By means of this analysis, stunted fish or unwanted species can be easily and quickly removed.
An example of electrofishing and fish stocking can be viewed here.
" target="_blank">
While it may sound unusual or even cruel, an electrofishing survey is a standard scientific survey method that causes no long-term negative effect to the fish population in a pond or lake.
An electrofishing survey acts as the reference point for a long-term pond management plan and provides clues for corrective stocking and harvest recommendations. While electrofishing surveys are used on established lakes to determine and diagnose problems, they're also used as a routine management tool to identify issues before they become large and expensive problems.
Lochow Ranch Pond and Lake Management uses a top-of-the-line electrofishing boat to accurately and effectively assess fish populations so lake and pond owners can take action to make their respective bodies of water all they can be.
Serving Texas, Oklahoma, Arkansas and Louisiana, Lochow Ranch Pond and Lake Management experts proudly put more than 50 years combined experience to work for lake owners and managers. The team includes biologists, technicians and other professionals with experience in all aspects of pond and lake management. The focus is on putting an ecosystem back in order to serve the original vision and needs as best as possible.
Lochow Ranch can be contacted for any lake management issues or for any lake construction, design, and renovation needs.
Contact Info:
Name: John Jones
Email: Send Email
Organization: Lochow Ranch Pond & Lake Management
Address: 7571 Highway 6, Bryan, Texas 77807, United States
Phone: +1-979-703-7988
Website: http://lochowranch.com
Source: PressCable
Release ID: 523131